Making a budget for your roof replacement is a crucial task. As a wise homeowner, the goal is to execute the replacement without overspending and getting in trouble with your contractor. A successful roof replacement is one that doesn't involve unwanted costs and poor service from the contractor. It is something you will be proud of, upon seeing your new roof.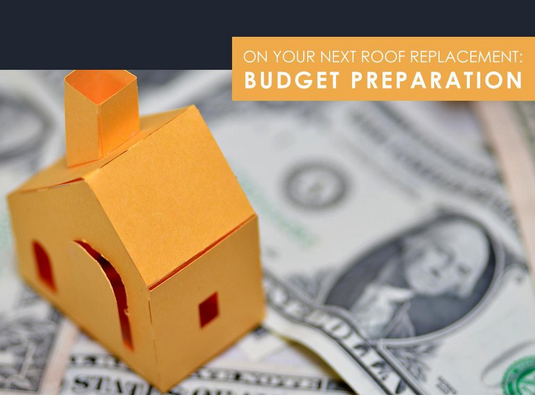 Here are some tips that will help you achieve just that:
Plan in advance.
Planning in advance can go a long way. It means setting the schedule, getting quotations, choosing the right contractor, and deciding on the maximum amount you can spend. This is the part where you should set all your expectations. Some homeowners fail to do this, as they usually let the contractor decide on all of these things. At Universal Roofing and Exteriors, we are here to guide you and provide the services based on your preference and budget.
Consider a temporary space where you can stay during roof repair. Check if your insurance covers the repairs needed for your house. Our team can help you with the insurance process, as we understand the required documentation by the insurance companies. List down all other possible expenses involved in your project and prioritize which items are non-negotiable with your contractor. A roof replacement will definitely cost more than just a simple repair, so expect more items and payables in your list.
Check the roofing specifications.
Since you are replacing a roof, you may want to check what type of roof materials you need to purchase. Are you going to install an entirely different roof? Compare prices if you are planning to switch to metal roofing or if you would want to simply install the same roof material on top of the old one. Check your roof size, pitch, number of layers needed, and if you have skylights, chimney, and other elements that must be addressed during the installation.
Think about the current and future use of the building/house.
In most case, elements of the house are installed based on the use of the building. For example, if you plan to use your property for a long time, choose the material that will last the longest. You may also want to choose a flexible material in case you would want to change anything in your home in the future.
Prepare a contingency fund.
Your gut will always tell you to stick to your budget, but you need to be wiser and think about things that could happen along the way. These things could affect your budget, so make sure these are covered. For residential roofing replacement, contractors would advise adding 10% to your overall cost, for wasted materials and other unforeseen circumstances. You can also ask your contractor if they offer financing. This way, you can spend for your project without sacrificing other priorities.
For inquiries on budget-making, call us today at (317) 257-0779 . We can always discuss our several options in terms of pricing. We serve surrounding areas in Indianapolis such as Fisher, Carmel, and Zionsville, Indiana.