Regardless of the severity, roof leaks are always serious and require prompt attention. If you procrastinate, they will worsen and can eventually cause widespread damage in your home. Chronic leakage can damage your ceilings and make wall coverings buckle, sucking the strength out of building materials over time.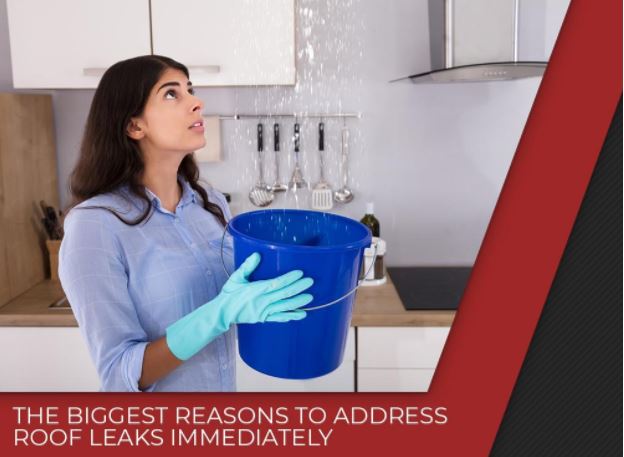 Whether you have a leaky residential or commercial roofing system, you should address it with a sense of urgency. Otherwise, here are some of the problems you may face:
Destruction of Valuables
If you use your attic for storage, your leaky roof can soak the boxes of items stored in there. Important documents, old photographs and sentimental letters could be gone in an instant. Electronics can be destroyed, as well.
Creates a Breeding Ground for Mold and Mildew
Mold and mildew thrive in damp environments. Since they can spread quickly through the vents, these fungi can invade interior walls, furnishings and even pieces of clothing. Apart from their unsightly appearance, mold and mildew can trigger allergic reactions and cause respiratory problems to sensitive individuals.
Damage to Your Insulation
Delaying roof repair for a leak can result in wasted energy. The leak can drench your attic insulation, causing it to clump and lose its ability to prevent heat transfer. Your HVAC system will have to work harder to compensate, leading to a spike in your energy bills.
Fire Hazard
If moisture from a leak comes into contact with exposed wires, a fire can start. The electrically charged water is a shock hazard.
Voided Warranty
Failure to detect and address a leak can accelerate the wear and tear of roofing materials. If the manufacturer deems the premature failure of the leak-affected component your fault, that may void your warranty.
Denial of Your Insurance Claim
In the event of roof leakage, it's imperative to address the problem ASAP. Procrastinating can lead to your insurance claim being rejected.
Don't waste a minute after learning about your leaky roof. Call Universal Roofing and Exteriors for thorough inspection and timely repairs. Call us at (317) 257-0779 today to get your roof leakage fixed in Zionsville, Fishers or Indianapolis, IN, right away.