You want the best for your roof. Looking for the best means being critical about the contractor you hire for your residential roofing project. But, how can you determine whether the contractor will provide exceptional service? It all boils down to client testimonials.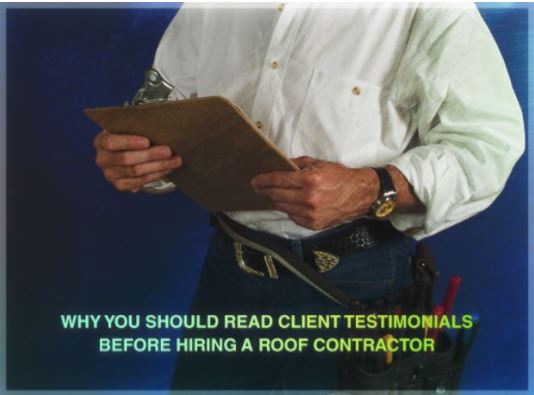 By reading the testimonials of clients the contractor previously worked with, you'll have a clearer idea of whether or not the roofing contractor will live up to your expectations. Here are the key reasons you should look at client reviews before hiring a roofer for your project:
Makes It Easier to Evaluate Their Professionalism
Testimonials help you determine the level of satisfaction clients had when they worked with the contractor. You can learn about how the contractor interacted with their clients, what services they provide and how well they were able to deliver. Reading testimonials allows you to evaluate whether the contractor behaves in a professional manner.
Allows You to Uncover Client Issues With the Roofer
Don't make the mistake of hiring the first roofing contractor that appears on your online search without even bothering to read reviews. Doing so leaves you blind to issues previous clients may have experienced with the contractor. The last thing you want to deal with is a stressful, mistake-laden roof project because you hired an unreliable contractor.
Provides You With a Point of Reference
Client reviews serve as a point of reference on how a contractor gets work done. If you don't know anyone who recently had their roof repaired, you can turn to client testimonials for reference.
Before you hire a contractor, be sure you're reading reviews from real customers. If the same review pops up under different client names, there's a possibility of it being a fake review. Be diligent about this.
If you need a trusted contractor for your roof repair, our team will be happy to share what previous clients have said about their experience with us. Call us now at (317) 257-0779 and let's talk about what you need. We work with homeowners in Carmel and Zionsville, IN.