Low-Slope Roof Types Indianapolis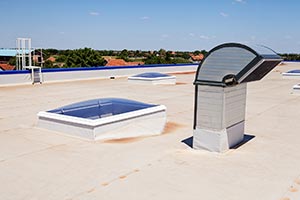 When Universal Roofing approaches low-slope roofs, we look at the whole system versus just the materials. The roof system is defined as the membrane and the roof insulation. Low-slope roof assemblies are comprised of three components: the membrane, insulation, and the deck. The assembly is defined as the deck, along with the roof membrane and roof insulation. Low-slope roofs are commonly referred to as flat roofs. Roof systems with a pitch less than 3:12 are considered low-slope roofs.
EPDM

Ethylene propylene diene monomer roofing, EPDM, is an extremely durable synthetic rubber roofing membrane that is widely used in low-slope buildings in Indianapolis and the surrounding counties. It is well regarded for its weathering ability through a wide range of conditions throughout the years.
Built-up Roofs (BUR)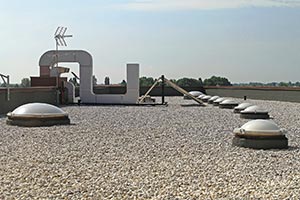 Built up roof membranes, BUR, have been one of the most popular low slope roofing systems used over the last 100 years in the US. BUR systems are generally composed of alternating layers which created a reinforced finished membrane (containing layers of bitumen and fabrics). Built up roofs are generally impenetrable to water based on their "four plies" or layering installation. This makes a Built up roof an obvious choice for a midwestern commercial property with a variety of weather conditions.
TPO
Thermoplastic roof replacement in Cincinnati, Ohio
Two energy-efficient choices for commercial roof replacement are Thermoplastic polyolefin (TPO) and polyvinyl chloride (PVC) roofing. The single-ply membrane roofing withstand tough weather conditions due to its durability and flexibility. These economical choices include many benefits and features:
Tear and puncture resistance
Energy Efficiency
Easy install
Heat Welded steams
Long Life
Commercial Golden Pledge Warranties from GAF
Modified Bitumen

The asphalt-based roofing called Modified bitumen roofing for commercial properties. These are primarily used in a low-slope roofing system as shown above. The modified bitumen repairs can be patched, depended on the membrane type, by a hot or cold application when torched down. Due to the many options for this system, including a factory-applied mineral surface, a gravel surface, and highly reflective "cool roof" coatings that help save on building cooling costs.
Learn More About Low-Slope Roofs
Universal Roofing & Exteriors is ready to handle all of your commercial roofing needs. To learn more, contact us today at (317) 257-0779 or use our convenient online request form.