Standing Seam Metal Roofing Indianapolis
The roof of your home or business is arguably the most important part of the building, serving as protection from the outside world. If your roof is damaged, it compromises the integrity and safety of the structure.
Metal roofing is an incredibly versatile and durable roofing option for your home. They are lightweight and require minimal repairs due to their durability, and offer a sleek and modern appearance, as well.
Standing seam metal roofing, a virtually leakproof option, reflects UV radiation that also helps reduce energy usage.
Universal Roofing & Exteriors is happy to provide a variety of metal roofing options, including standing seam metal roofing. We will ensure the installation of a standing seam metal roof Indianapolis residents can count on.
For Indianapolis metal roofing services, a residential roofing contractor from Universal Roofing & Exteriors is happy to help with materials, installation, and maintenance for your standing seam metal roof.
Standing Seam Metal Roof Advantages and Appeal
In the past, many believed metal roofs to be bland, noisy, or primarily for industrial buildings. However, today, both homeowners and business owners utilize metal roofing due to its durability and curb appeal.
Curb Appeal
Metal roofing provides your home with a unique look to set it apart from other residential homes and increase its curb appeal.
Your roof is a reflection of your home as a whole, so roof maintenance is just as important as maintenance on other parts of your home. Metal roofs provide your home with a contemporary elegance that is sleek, grabs attention, and suits many different types of architecture.
Weather Resistance
One of the best features of standing seam metal roofing is that the panels lock together, protecting any screws and bolts from being exposed to rain.
This protective layer protects your home from inclement weather, such as strong winds of up to 150 mph or a severe hail storm.
Durability
Metal roofing is also incredibly durable, making this type of roof resistant to hail damage, high winds, and more. Quality metal prevents dented panels.
Because standing seam metal roofing is made by interlocking metallic sheet metal with concealed fasteners, the design is smooth and appealing with corrosion resistance.
Fasteners are not left exposed, increasing the durability of the metal material being used. Metal roofing easily lasts the longest of all roofing materials, with a lifespan of 100 years under the right conditions.
Cost-Effective
Another one of the advantages of standing seam panels as opposed to other materials, is that it naturally deflects UV rays, which keeps your house cooler and reduces the cost of utility bills.
Other benefits of installing metal roofing include reduced insurance rates and tax breaks thanks to its lifespan and watertight nature.
What Is Standing Seam Metal Roofing?
In short, standing seam metal roofing is a type of metal roofing consisting of concealed fastener metal panels.
Each metal roofing panel features a flat, broad area with two vertical legs. Above the panel's flat areas are visible seams, which can be used for metal walls as well as metal roofs.
The notable feature of this type of metal roof is that the fasteners are hidden as opposed to other roofing elements. During this metal roofing installation, fasteners are attached to either the roof deck via a clip or directly to the decking material underneath the vertical legs.
Types of Standing Seam Metal Roofs
Standing seam metal roofing systems are popular with customers due to them being available in many different styles.
Not only are there a variety of metal roofing colors available, but if you choose to have your new roof made of standing seam panels, there are many different lengths, widths, shapes, and thicknesses available.
Profile Options For Metal Roofs
Homeowners and business owners can also choose from different profiles. When it comes to the installation of a new metal roof, there are a few different ways two panels can be seamed together.
Whether you choose snap-lock, batten panels, mechanical seams, nail fasteners, or flange fasteners, our Indianapolis metal roofing contractors will assist in choosing the best profile to manufacture for your metal roof.
Factors that influence which profile is installed include the environment, the type of roof you currently have, and its shape. Our metal roofing contractors are familiar with Indianapolis and its weather, so you can rest assured the best roofing for you will be installed.
Cost of Standing Seam Metal Roofing
Universal Roofing & Exteriors prides itself on honesty and communication with our customers in Central Indiana and the Indianapolis area. That's why we offer a free estimate so you know exactly what to expect when you have your roof installed.
The cost to install metal roofs depends on many things, such as the size, slope, and pitch of your roof. On average, the cost to install metal roofing ranges from $8 to $24 per square foot.
However, if you have an existing roof and need a roof replacement, the cost for a new roof to be installed may change. There are cases where a metal roof can be installed over existing asphalt shingles.
In fact, installing metal shingles over asphalt shingles is a much more accessible option for metal roofing installation.
Customization Options of Standing Seam Metal Roofs
Metal roofing is highly customizable, making it a great way to personalize your home. This roofing material provides your home with a contemporary elegance that is sleek, grabs attention, and suits many different types of architecture.
There are many different options you can choose from to customize the look of your metal roofing. At Universal Roofing & Exteriors, our contractors will go over all of the options to make your vision come to life.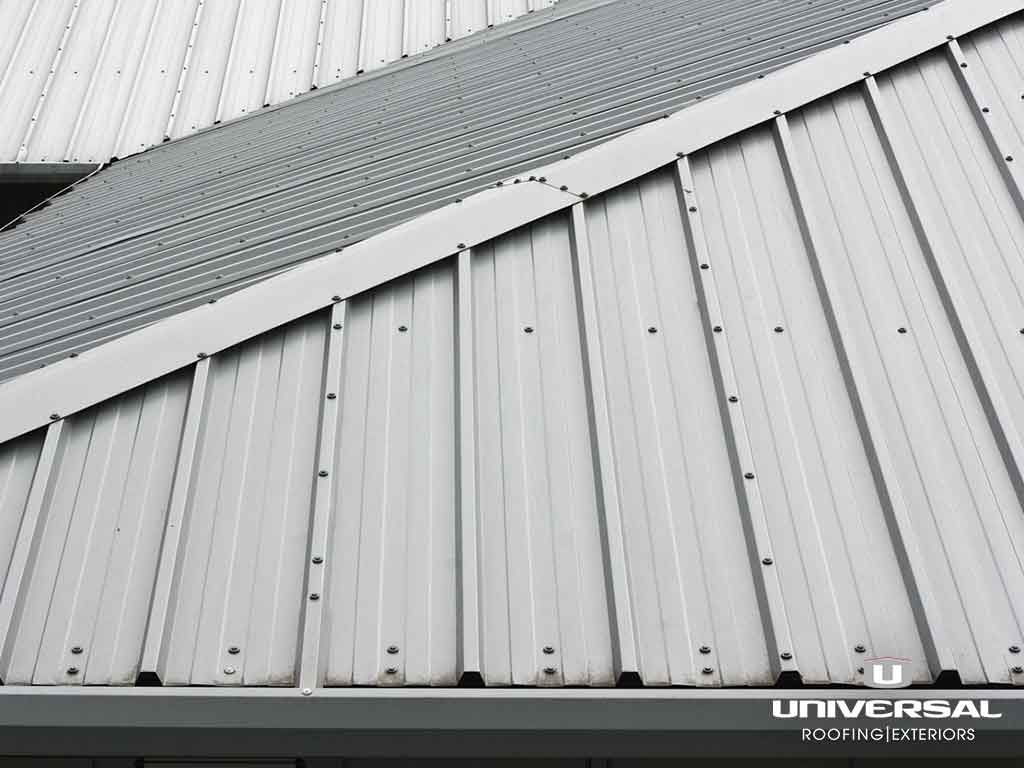 Our Approach to Standing Seam Metal Roof Installation
Universal Roofing & Exteriors is dedicated to Indiana metal roofing. We know that installing a new roof can be complicated, but we're here to make it easy.
Professional Metal Roofing Installation
Our team of contractors is experienced in installing all types of metal roofs, including standing seam metal roofs in Indianapolis.
Regardless of the kind of roofing project you'd like done, we can help you achieve the results you want.
One of our contractors will be happy to assess your existing roof and discuss options with you, including whether a standing seam metal roof is right for your home.
Dedication to Our Customers
We are dedicated to providing our customers with the best experience possible.
Using only the best metal roof installation techniques, we strive for open and honest communication to ensure your finished roofing project is exactly what you want.