Superior Roofing Contactor in Boone County
Universal Roofing & Exteriors is a local, family owned roofing contractor in Boone County, Indiana and surrounding areas that has been serving customers for over 30 years. Our commitment to excellence for both commercial and residential customers enables us to provide roof repair, replacement, and maintenance to businesses and homeowners. Our team of professionals can handle all of the roofing and exterior remodeling needs that you have. We work around your schedule to exceed your expectations and align with your budget.
Service We Provide
We are a full-service roofing contractor in:
Zionsville
Whitestown
Ulen
Fayette
Lebanon
Thorntown
Advance
Key Service Areas
We provide home and business owners in Boone County with only the highest quality products and services. We realize that each customer has individual needs, and our roof repairs in Boone County, IN exceed the needs of our customers regardless of whether they are residential or commercial. Services that our team of experts provide include:
Our innovative installation practices combined with superior customer service produces high quality results. Also, each of our professionals at Universal Roofing & Exteriors are specially trained, certified, and qualified to provide you with industry-proven products and services.
Our Mission to Satisfaction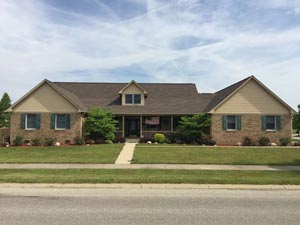 When it comes to home repairs, you don't want to risk trusting the work to just any contractor. That's why at Universal Roofing & Exteriors we are 100 percent committed to every customer in Boone County. Because we are a local company, we are familiar with the environment and the type of protection your roof needs. We understand the damage that heavy winds, the sun, and storms can cause, and always go beyond what our customers expect.
Contact Us Today
When you need a roofing contractor in Boone County, Indiana, trust the professionals at Universal Roofing & Exteriors. Contact us today at (317) 257-0779 to schedule a free consultation. You can also use our convenient online request form. [serviceareareviewcombo state="IN" city="Advance,Jamestown,Lebanon,Thorntown,Ulen,Whitestown,Zionsville" showmap="yes" zoomlevel="10″ reviewcount="50″ checkincount="50″ serviceareaname="Boone County IN"]