Hancock County's Most Trusted Roofing Contractor
Universal Roofing & Exteriors provides quality residential roofing and siding installation in Hancock County and neighboring cities. As a locally owned and trusted roofing contractor for over 30 years, we take pride in our exceptional workmanship and customer service for commercial and residential projects. We back our service with integrity and excellence, and our skilled team of professionals uses only brand name, high-quality materials regardless of the roof type. Our industry proven installation practices, expertise, skills, and knowledge enables us to provide you with a superior end product.
Service We Provide
We are a full-service roofing contractor in:
Greenfield
New Palestine
McCordsville
Fortville
Charlottesville
Wilkinson
Eden
Spring Lake
Cleveland
Our comprehensive roofing and gutter services are perfect for any exterior remodeling requirements. We ensure that your roof is in excellent working condition throughout the year with professional roofing maintenance services and timely repairs. Our superior siding installation in Hancock County, includes fiber cement and vinyl options to ensure you home is guarded against the elements. Highlights of our services include:
Roof repair and maintenance (link)
Our specialists are equipped and certified to work on every layer of your home's exterior. Our credentials provide assurance of a roofing system that will provide many years of reliable protection and create lasting value.
Dedication to Excellence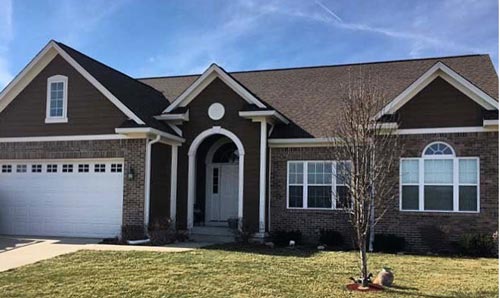 Our team of professionals has over three decades of experience providing business owners and residents in Hancock County with superior roofing, siding, and gutter services. We realize that each customer has individual requirements, and our specialists are committed to meeting those needs.
Contact Us Today
When you need residential roofing in Hancock County, trust the experts at Universal Roofing & Exteriors. Contact us today at (317) 257-0779  to schedule a no-obligation consultation. You can also use our convenient online request form.
[serviceareareviewcombo state="IN" city="Cumberland,Fortville,Greenfield,Maxwell,McCordsville,New Palestine,Shirley,Spring Lake,Wilkinson" showmap="yes" zoomlevel="10″ reviewcount="50″ checkincount="50″ serviceareaname="Hancock County IN"]