Universal Roofing & Exteriors: Roofing With a Cause
Here at Universal Roofing & Exteriors, it's not about the money or profit—it's about community. Our founder Charles Randy Yeary and his brother Rob were raised with the values of loving others and developing a strong work ethic. They were taught by their grandparents to be devoted to God and live a life of integrity. This is the ultimate hallmark of our company and what causes us to be trusted among our loyal customers.
Good Works in the Community
Business Done Right
Too many businesses are focused on profit. That's why you'll see so many contractors cutting corners on quality and customer service, but not Universal. We recognize that serving our community with integrity, honesty, and quality is the only way to run a successful and trustworthy business.
Over the past few years, Universal Roofing & Exteriors has engaged in different projects to help the community. Starting in 2017, we've branded these efforts as Good Works In The Community. These efforts showcase our dedication to the Indianapolis community. As a small business we try give back when we can, which means we are fortunate, 2-3 times a year, to service the greater Indianapolis community in our Good Works. Be on the lookout as we continue to support our neighbors and the surrounding area with our Good Works In The Community!
What We Have Done for Central Indiana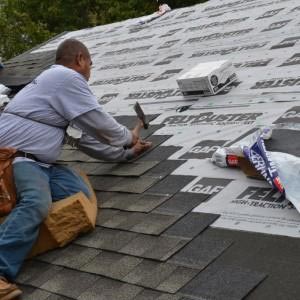 These values translate into our daily work. Besides the fact that we give each customer our full respect and treat each project with precision and attention to detail, we are dedicated to being involved in our local community. Central Indiana is a beautiful place full of bright people and we are happy to provide this area with our services. Here are some ways we have been involved in our community:
Habitat for Humanity — Habitat for Humanity has done incredible work providing housing for those less fortunate since 1976. Their hard work and compassionate values are the reasons Universal Roofing & Exteriors partnered with them and built two roofs for their affordable housing projects in central Indiana.
Unleavened Bread Ministries: Working with like-minded individuals to help serve our local community.
Truth At Work: A local ministry organization promoting and practicing ethical business practices.
Little League Baseball — We understand the value that local sports hold in our community. They bring families together and promote sportsmanship and teamwork. That's why we donated our time and services to building several dugouts for local communities.
Wheeler Mission: Universal Roofing helps provide food, shelter, and ministry programs to local neighbors in need.

Mozel Sanders Foundation: Universal helps feed the hungry during the Annual Thanksgiving Day Dinner.
So Big – Mountain House Universal roofing donated the entire roof for the mountain house in 2017. See video above!
Carmel Clay Parks and Recreations – Cox Hall Garden – Universal Roofing donated new roofs, paint, labor and material to update and clean the Cox Hall Garden play area located on the north eastern side of the park.
Additional Charities and Groups we support:
Local area churchs
Local area high schools
Indy Yoga Movement
Butler University
Boy and Girl Scouts
"We are proud to support the Carmel Dad's Club which is a non-profit organization dedicated to providing high-quality sports programs to the youth of Carmel and Clay Townships who can't afford it.. Their programs are supported through volunteers who give their time and care to each individual program."
"Rob and Universal Roofing will ALWAYS make it right. You will not find better people in the roofing and repair business in Indianapolis!"
– Bob Adams
Board Member and Sponsorship
Coordinator for Washington Township Little League
Learn More
To learn more about our community-focused projects or hire us to be your roofing contractor, you can fill out your information via our request form or call us at (317) 257-0779 .
Additional images: