Drywall installation can disrupt your daily routine, as your drywall contractor will be tearing down and building new walls. Being prepared for the process will make things easier for you as your new walls are installed. Here are some tips to help you plan for this project: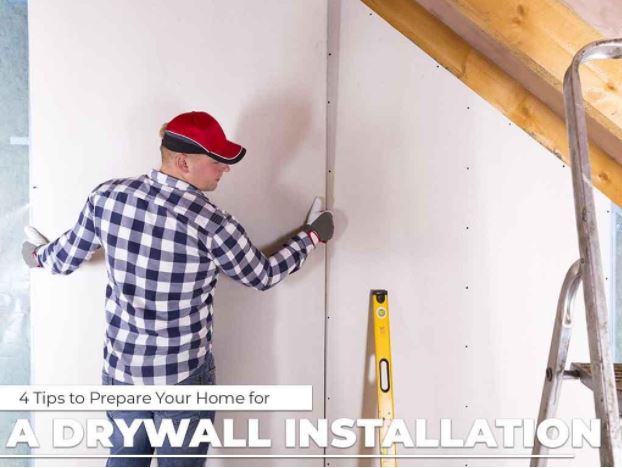 Know the Installation Schedule
Remodeling timelines vary depending on many factors, such as scope and complexity. Replacing existing drywall involves tearing the old drywall down, which can be a complex process if supports are part of the wall. Meanwhile, rebuilding exterior walls takes even longer. Experienced drywall contractors like ourselves should be able to give – and commit to – a fixed time frame, giving you a chance to plan ahead in case you and your family need to move out during the project.
Have Extra Dust Covers
Drywall installation will involve a lot of dust and debris, especially during teardown. While we provide sufficient dust covers and drop cloths for our installation projects, it never hurts to cover dust-sensitive items like valuables and electronics. The house may also get permeated with vapors during the drywall painting stage, so items that may be sensitive to these vapors should be doubly protected.
Consider Rerouting Electrical and Plumbing Work
A drywall installation is an opportunity to reroute your electrical outlets to somewhere more convenient or to correct previous installation errors. If you've always needed a power outlet closer to your desk, dimmer switches for your bedroom lights or bathroom sink moved out of the way, make sure you include this in your remodeling wish list.
Communicate with Your Contractor
We make it a point to have open communication with our clients. We encourage our clients to raise any questions or concerns about the project. Being on the same page as our clients helps the project run more smoothly for all.
To learn more about our drywall repair, painting and installation services, call Universal Roofing and Exteriors today at (317) 257-0779 . You can also fill out our contact form to schedule a free estimate. We serve areas in and near Zionsville, Fishers and Northside of Indianapolis, IN.