Metal Roofing Indianapolis
Metal roofing is extremely versatile, and the availability of metal shingles, shakes, slates, and tiles gives homeowners and businesses multiple roofing options.
Metal roofs & metal roofing materials have been used commercially for years due to their low maintenance and durability – qualities that make a metal roof increasingly appealing to homeowners. Understanding the basics can help you determine if a metal roof is right for your next roofing project.
Universal Roofing & Exteriors offers free estimates on your metal roof and other roofing elements, whether you need a roof replacement or assistance with an existing roof or an old roof.
Types of Metal Roofing
Metal roofing panels are made from many different metals and have greater longevity than other roofing options. Some of the most popular roof installation options for metal roofing materials include:
Aluminum
This material is lightweight, easy to install, and ideal for homes near saltwater. Unfortunately, it can be more vulnerable to harsh weather conditions as it is easier to bend. While it's more malleable than steel, making it much more flexible, it's easier to dent.
Our contractors are experienced with a variety of metal roof materials and will take special care in installing an aluminum roof to avoid dents.
However, aluminum is unique in that it forms a hard oxidation when it corrodes, which protects it in the long run. This makes it stronger and prolongs its life span.
Copper
Copper roofing is a beautiful option for homeowners seeking an antique look and curb appeal. However, copper is high-cost and one of the most expensive options available.
Lightweight, sturdy, energy-efficient, and weather-resistant, copper roofing is a great option that offers excellent marketability due to its attractiveness.
Corrugated Metal
Corrugated metal roofs come in low-maintenance, long-lasting panels. These roofs can be seen on old agricultural buildings and warehouses throughout Indianapolis.
Corrugated metal roofing is one of the most inexpensive types of metal roofing. It also has one of the most cost-effective metal roof installation processes.
Since it is easy to install, our metal roofing contractors can place a new metal roof over typical asphalt shingles.
Shingles
Metal shingles can mimic the color and look of shake, slate, or tile. Many people prefer the curb appeal of metal shingles over asphalt shingles, but there are also practical benefits. Metal shingles are more resistant to weather damage and last longer than asphalt.
A metal roof consisting of metal shingles is versatile and safe. They are fastened mechanically and do not use quickly deteriorating adhesives like asphalt shingles do.
Additionally, a metal roof is environmentally friendly, consisting of primarily recycled materials! They can also lower the accumulation of heat in your attic, making them energy efficient, as well.
Steel
Steel roofing is sturdy and durable. Although the creation of steel requires more energy, it is the most recycled material in the world, making it more eco-friendly. Stone-coated steel roofing is another option available to Indiana homeowners, providing the advantages of metal while mimicking the appearance of shingles or tiles.
Galvanized steel is a type of metal roofing consisting of steel that has been coated with a protective layer of zinc, which prevents it from rusting. To protect your metal roofing colors, our Indianapolis metal roofing contractors can aid you in deciding on a material for your new metal roof.
Recycled steel is one of the roofing types that is most eco-friendly, as it is 100% recyclable, unlike asphalt shingles. Incredibly durable, a steel roof structure has corrosion resistance that can resist high winds, hail damage from a severe hail storm, and other inclement weather.
Standing Seam
Standing seam panels fit together tightly, making them virtually leakproof. They also reflect UV radiation, making them an excellent metal roofing system. These panels also help reduce your energy usage while keeping your house cooler in hot weather.
Standing seam metal roofs combine simple traditions with modern engineering and materials, making a standing seam metal roof a great option for most architectural designs.
Indianapolis Metal Roofing Benefits
Before requesting an estimate, you should consider the needs of your home and family. Do you want a lightweight roof that requires minimal repairs? Or a sleek, modern installation? Here are some things to consider:
Affordability
Some metal roofs can be installed over old asphalt shingle roofs, creating a faster installation process. This process is a bit more expensive but may be more efficient and economical over time.
Durability
A properly maintained metal roof can last 50 to 100 years. Your licensed Indianapolis metal roofing contractor can regularly inspect or repair your roof as needed. A metal roof's resistance to leaks, corrosion, and ultraviolet rays makes it one of the most durable options available.
Flexibility
Metal roofing is available in a variety of colors, profiles, and textures, making these types of roofs perfect for your first roofing project. A seasoned Indiana roof installation contractor can provide customizable metal options for your installation.
Insulation
A metal roof reflects more solar radiation than the average asphalt roof absorbs. The finishing you choose can enhance the energy efficiency of your metal installation. Pre-painted and granular-coated metal roofs reflect sunlight while absorbing excess heat in warmer temperatures.
Low Maintenance
Metal roofs are very resistant to weather damage because they don't lose their protective layer like asphalt shingling. A quality metal roofing installation can last decades and requires less maintenance than other roofing options.
Sustainability
Metal roofs are made of recyclable materials and can be recycled again if you want to change your roofing system. Metal is malleable and fits well on various types of roof shapes and slopes. Metal roofing will protect your chimneys, gutters, windows, and electric systems, all while protecting your home from hail and snow.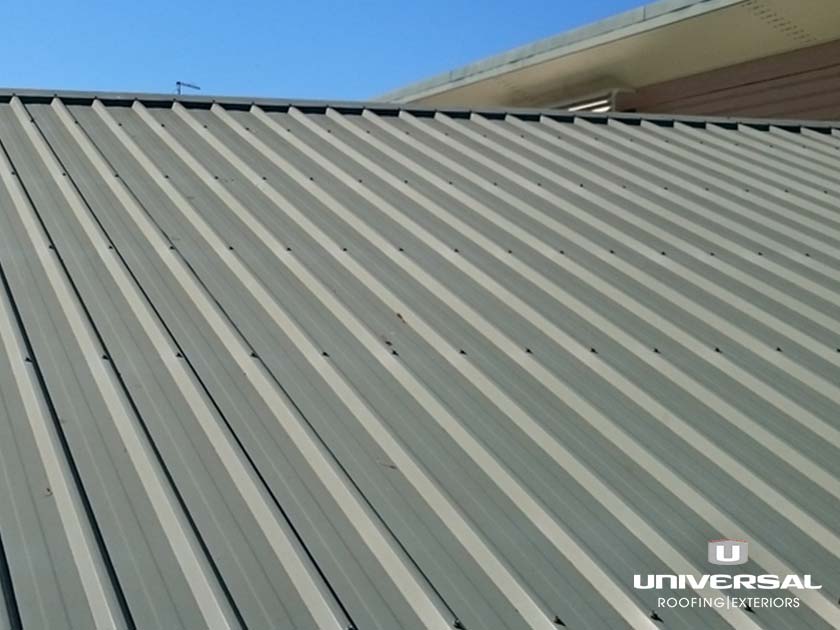 Frequently Asked Metal Roofing Questions
Metal roofing is an increasingly popular option. It is beautiful, modern, and durable. However, some homeowners have concerns about metal roofing options. Here are some frequently asked questions about metal roofing:
Is metal roofing loud?
Some homeowners expect metal roofs to be loud, but proper insulation greatly reduces potential noise. Speak with an Indianapolis roofing contractor about the best materials for your project.
Are metal roofs more lightning-prone?
Metal roofs are not more susceptible to lightning strikes than other roofs. However, if your metal roof is struck by lightning, it won't catch fire the way other materials might, making it a superior option.
Is metal roofing easily damaged by weather?
Metal roofing can be rated to withstand 120-mph winds, depending upon the style you choose. Your Indianapolis roofing specialists will explain which roofs work best for Indiana weather.
Can I change my metal roof's appearance?
Absolutely! Metal roofs can be made to look like asphalt, clay, slate, or even cedar.
Is metal roofing expensive?
Metal roofing costs more upfront than asphalt but can drastically reduce the costs to maintain over time. In fact, roofing contractors recommend metal roofing for those who want to save money in the long run.
Are metal roofs energy efficient?
Quality metal roofs could save homeowners up to 40% in energy costs. Metal reflects heat and ultraviolet rays and is considered among the most energy-efficient roofing materials available.
Why metal roofing?
Universal Roofing & Exteriors offers a variety of roofing material options and can meet your unique preferences. Our Indianapolis contractors recommend metal roofing because of its numerous advantages. Metal is sturdy, energy-efficient, versatile, lightweight, attractive, affordable, and suitable for homes and businesses.
Get Metal Roofing in Indianapolis
Universal Roofing & Exteriors's experienced, licensed, and insured roof professionals will ensure your roof gets installed right.
Our team of trained metal roofing contractors takes pride in providing our customers with the service they deserve.
We can handle whatever type of repair or replacement service your home might need. Contact us for a free estimate and get started today.