Your roof is a sturdy structure, but the actual state of your roofing might not always be apparent. It may look like it's doing fine when you look at the surface, but it may already be encountering problems. In cases like this, it's important to get immediate roof repair. Let Universal Roofing and Exteriors discuss why.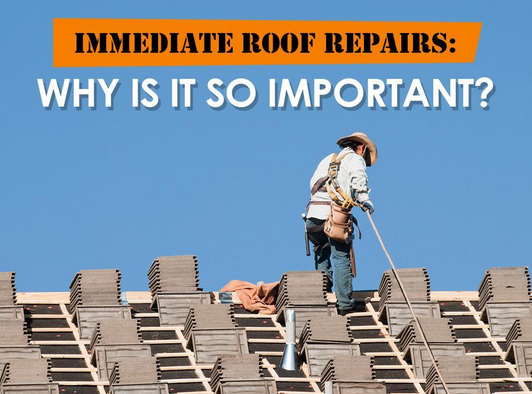 Immediate Roof Repairs are Cheaper
Many homeowners aren't keen on getting their roof repaired, especially if the roof looks perfectly fine at face value. Roofing problems, however, can quickly become larger and more expensive concerns if you don't address them immediately.
A small leak, for example, can quickly become a very large hole in the roof due to a combination of heat, moisture, and humidity. We suggest you have us conduct roof repair if there are small leaks on your roof. The cost of repairing small leaks and other roofing problems is small when you compare them it the price you'll have to pay for larger roofing concerns.
Immediate Repair Prevents Widespread Roof Damage
Apart from lower upfront costs, immediate roof repair also prevents your roofing from developing more problems. A leak, for example, encourages moisture damage to spread throughout the actual structure of the roofing. This weakens the deck board and may eventually cause the shingles on your roof to slip off and sustain damage in the process.
Professional Repair
If you're planning to do immediate repair on your roofing, have our professional team do it for you. Repair work is risky for the untrained, and you can't really tell if the roof is still stable unless you step on the actual surface. We're properly trained and equipped to get the job done swiftly and professionally.
Our team has the skill and experience to address roofing problems before they become bigger and costlier. Give us a call for all your residential roofing concerns. You may reach us at (317) 257-0779 for more information on our services. We offer professional roof repair throughout Carmel, Zionsville, and other parts of Indiana.